As of April 2017 the Neat Acoustics Iota ALPHA now has optional Neat Feet. Here's a closer look from our recent setup day at AXPONA Audio Expo North America 2017: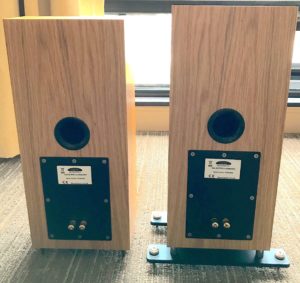 With or without? It's your choice. Either way the unique Neat Acoustics Iota ALPHA remains remarkable; even when you look at it from behind! Neat Feet do add a touch of height to the rather diminutive Iota ALPHA. They also add increased mass; a more stable "base" upon which the ALPHA does have a touch more bass; and overall their image focus at high volumes does improve.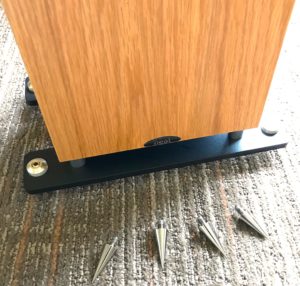 The Iota ALPHA does come standard with some impressive spikes. The Neat Iota ALPHA Feet are an option to add at any time.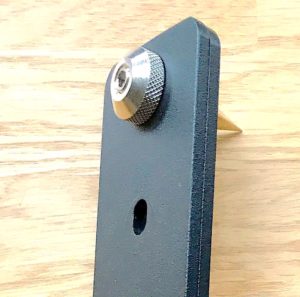 A closer look at a section of  the Iota ALPHA Feet reveals a massive, precision adjustable spike and the three layers that make up the "steel sandwich" called acoustic steel.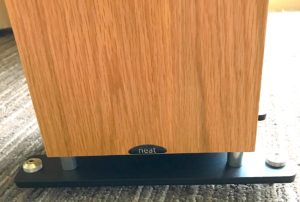 A slightly wider stance gives the Iota ALPHA a bit more stability. This is nice for Iota ALPHAs that reside in a high traffic area or in a home with children looking for a playmate. Just kidding…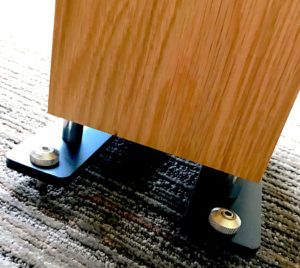 A view from the side reveals the precision stainless steel spacers that allow the two acoustic steel "stabilizers" to securely mount to the Iota ALPHA's base. The overall effect is a slightly increased height, moderately increased stability, and a notable amount of mass at the base of the loudspeaker: your music will be more focused at louder volumes and the bass extension/clarity is perceivably greater.