High Fidelity Services was pleased to once again support Command Performance A/V of Falls Church, Virginia this year at the Capitol Audio Fest Show in Rockville, MD. We would like to thank Jeff Fox for the opportunity to support the Greater Washington DC areas newest high performance audio store. This year's presentation raised the bar with a true "Command Performance" in one of the Hilton's larger conference rooms. With demonstrations of Neat Acoustics' entry level Iota and flagship Ultimatum XL10 loudspeakers, driven by Audia Flight electronics and Command Performance's stellar digital and analog front ends and cabling, music was enjoyed by all.
Stereophile:
"They played Dead Can Dance for me—the same first DCD record that I used to play when I did audio show rooms for Audio Note. It sounded amazing. Detail was relaxed and natural and that signature Dead Can Dance space was out in full force. The tall towers were Neat Ultimatum XL­10s ($32,250/pair) powered by the Audia Flight Strumento No 1 preamplifier ($17,500), and the Audia Flight No 4 Stereo Amplifier ($27,500) and the Berkeley Audio Design Alpha DAC and USB. They spun the Dead Dancing LP on the VPI Avenger turntable wearing the Lyra Kleos cartridge—the feeling of being alive was enjoyable in the Command Performance room."
Herb Reichert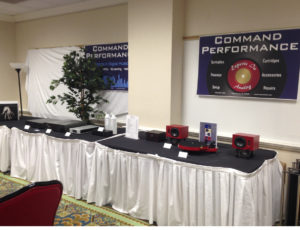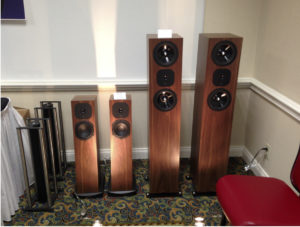 Also on display: Audia Flight's FL Three S Integrated amplifier ($3,495) and FL CD Three CDP ($2,895), Unity Audio Design's two­ part Record Wash Pro ($79), Neat Acoustics' Iota in Red ($995) with matching Project turntable ($495), Custom Design's FS104 speaker stands ($485), Neat Acoustics' Motive SX 2 ($2,395 )and brand new Momentum SX7i floor standing loudspeakers ($9,500).